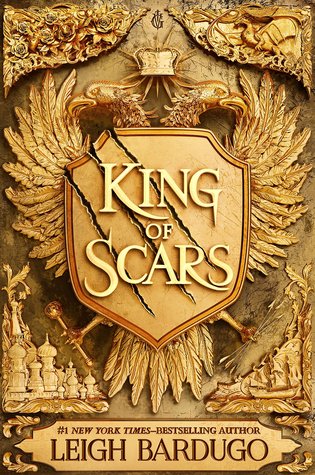 Book: King of Scars




Author: Leigh Bardugo




Series: Nikolai Duology #1
Nikolai Lantsov has always had a gift for the impossible. No one knows what he endured in his country's bloody civil war—and he intends to keep it that way. Now, as enemies gather at his weakened borders, the young king must find a way to refill Ravka's coffers, forge new alliances, and stop a rising threat to the once-great Grisha Army.
Yet with every day a dark magic within him grows stronger, threatening to destroy all he has built. With the help of a young monk and a legendary Grisha Squaller, Nikolai will journey to the places in Ravka where the deepest magic survives to vanquish the terrible legacy inside him. He will risk everything to save his country and himself. But some secrets aren't meant to stay buried—and some wounds aren't meant to heal.


This book was definitely not what I had been expecting, in both a satisfying but unsatisfying way.





There are two main storylines going on: Nina's, who is up in Fjerda working as a spy and dealing with their Grisha, and Nikolai and Zoya's, who have centre stage in Os Alta as they try to navigate around politics while figuring out what to do with Nikolai's new dark manifestation. These two arcs don't meet at any point, which was a bit confusing, but there's hints that they're all connected, which probably will be revealed in the next book.





Both the storylines were interesting, but at different times opposite to the other. For the first half of the book, I was heavily invested in Nikolai and Zoya as they tried to figure out a solution to the rising political tension and Nikolai's potential bloodlust. Strategies, plans, deceptions--all with Nikolai's unique wit and sarcasm as he tried to make light of a worsening situation, with him at a main, but uncontrollable, cause. The desperation foiled by his lightness made it very fun to read about, and it was awesome to get to see some of the old gang too. However, once the second half of the book rolled by, my interest in that storyline dropped. Nothing seemed to be happening until the very end, with Nikolai's normal charm gone for far too long, which was disappointing.



But let's switch to Nina's storyline. She was in Fjerda working as a spy, trying to get secret Grisha out of the country before the Fjerdan military seized them and continued their experiments on them with jurda parem. In contrast to Nikolai and Zoya's storyline, the beginning first half was very dull with not too much happening but a bit of Nina poking around, but the second half was when everything went down. Nina's character herself was much changed (naturally, after the events of Crooked Kingdom), and she reminded me of Kaz with her constant scheming and deceptions. I'm really looking forward to seeing how she continues to play this out in the next book, since I'm a sucker for dangerous secret identities.



So despite the two storylines not matching up at all, I'm definitely very interested in knowing what happens in the next book. Especially after that reveal at the end!!!