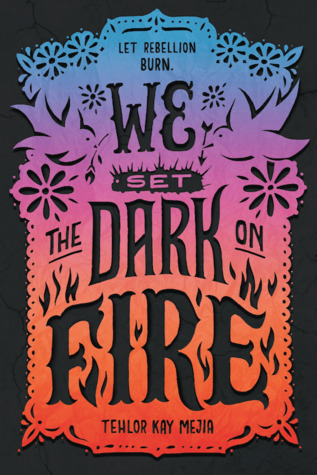 Book: We Set the Dark on Fire




Author: Tehlor Kay Mejia




Series:

We Set the Dark on Fire #1
At the Medio School for Girls, distinguished young women are trained for one of two roles in their polarized society. Depending on her specialization, a graduate will one day run a husband's household or raise his children, but both are promised a life of comfort and luxury, far from the frequent political uprisings of the lower class. Daniela Vargas is the school's top student, but her bright future depends upon no one discovering her darkest secret—that her pedigree is a lie. Her parents sacrificed everything to obtain forged identification papers so Dani could rise above her station. Now that her marriage to an important politico's son is fast approaching, she must keep the truth hidden or be sent back to the fringes of society, where famine and poverty rule supreme.
On her graduation night, Dani seems to be in the clear, despite the surprises that unfold. But nothing prepares her for all the difficult choices she must make, especially when she is asked to spy for a resistance group desperately fighting to bring equality to Medio. Will Dani cling to the privilege her parents fought to win for her, or to give up everything she's strived for in pursuit of a free Medio—and a chance at a forbidden love?
That was a whirlwind of a book!



I had no idea what to expect when I picked this book up on a whim; the words "bold feminist book" were what caught my attention and made me decide to read it. I was pleasantly surprised when I discovered an LGBTQ book about social oppression, justice, sexism, espionage, and Spanish culture.





With a society heavily segregated between the upper class and lower class, it was no surprise that social oppression and social justice were the main drivers of the book. I enjoyed the realistic acts of protest described in the book, as well as the realistic portrayals of how the stronger, often oppressing side snuffed them out or discredited with fear tactics and other horrible methods. These unfair and discrediting retaliations against peaceful protests are unfortunate realities in this day and age, and I appreciated how the author made a clear attempt to educate readers about it.





I found the main character, Dani, to have a bit too much internal conflict as to whether to join the resistance group or not. She fretted quite a lot, which led a large portion of the book to take place in her head rather than the actual story. Though her resolve at the end was strong, I thought her motives leading up to it were in continuous fluctuation. It made for a slightly weaker espionage story than I would have liked.





I really liked how Dani was brought up on cultural concepts of duty to her family. This is something that is often glossed over in many books. But in this case, Dani specifically owes literally everything to her parents giving up everything for her. And she doesn't waste it, doing her best to make them proud first by being a stellar Primera and then by doing her best to take down the oppressive hands governing the island.





I kind of also wished there was a bit more focus on the lifestyle the upper class lived in, specifically how exactly each household functions with a husband and two wives. The concept of one wife being smart and intelligent and the other being the vain and nurturing one is an fascinating take to what a women's domestic role in society is. It both affirms but denounces the typical sexist stereotyping of women, in that they can only be placed one of two binary roles.





So despite my slight reservations of the plot, I'm giving it 4 stars based off it addressing the hard questions while also incorporating the Spanish culture of family and duty. Plus that great romance!!!