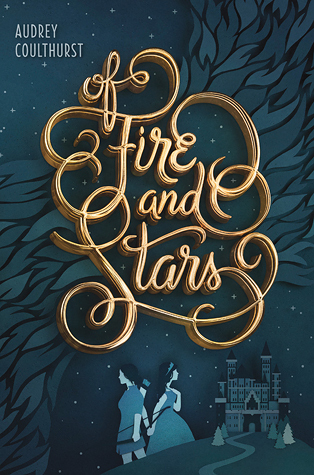 Book: Of Fire and Stars

Author: Audrey Coulhurst

Series: Of Fire and Stars #1
Betrothed since childhood to the prince of Mynaria, Princess Dennaleia has always known what her future holds. Her marriage will seal the alliance between Mynaria and her homeland, protecting her people from other hostile lands. But Denna has a secret. She possesses an Affinity for fire—a dangerous gift for the future queen of a kingdom where magic is forbidden.

Now, Denna must learn the ways of her new home while trying to hide her growing magic. To make matters worse, she must learn to ride Mynaria's formidable warhorses—and her teacher is the person who intimidates her most, the prickly and unconventional Princess Amaranthine—called Mare—the sister of her betrothed.

When a shocking assassination leaves the kingdom reeling, Mare and Denna reluctantly join forces to search for the culprit. As the two become closer, Mare is surprised by Denna's intelligence and bravery, while Denna is drawn to Mare's independent streak. And soon their friendship is threatening to blossom into something more.

But with dangerous conflict brewing that makes the alliance more important than ever, acting on their feelings could be deadly. Forced to choose between their duty and their hearts, Mare and Denna must find a way to save their kingdoms—and each other.
The first half of the book a bit of a slow burn in the normal way world-building can be. However, once things got settled down, the plot was able to shine through, as did the characters.





I was a bit wary of both Denna and Mare at the beginning of the book, Denna for being a bit too uptight in court life and being adamant about only doing what's proper, and Mare for seeming to be way too unconcerned about the kingdom's affairs. However, both proved me wrong by the end of the book, with Denna being absolutely suffocated by the heavy court life and jumping at freedom, and Mare finally playing her hand and showing a very credible concern over the grand problem facing her kingdom.





Though the society at the castle wasn't necessarily toxic (women are allowed as captain of the guards and as part of a counsel), it definitely was for Denna and Mare. It was quite a good foil for Denna, emphasizing how smart and studious she was in an environment where those traits weren't recognized, despite how beneficial they would have been to the castle's predicament. Mare's role in the court similarly was extremely degrading; it was made clear that no one would give her the power and authority of her birthright as princess unless she "acted like a proper princess," which was code for being docile and getting married to a political ally. Essentially, the court acted heavily to smother both Denna and Mare, which only helped to bring out their best traits and ultimately bring them together.





I'm looking forward to reading the next book, especially after the incredible growth these characters have just had!