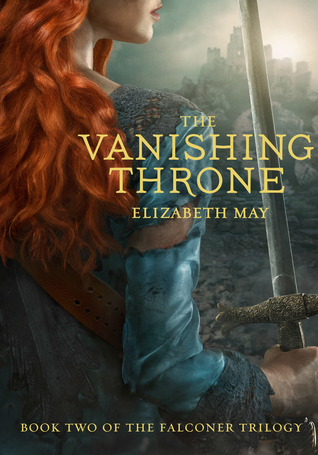 Book: The Vanishing Throne




Author: Elizabeth May




Series: The Falconer #2




Setting: Edinburgh, 1848




Genre: YA fantasy




Publisher: Chronicle Books




Pages: 384




Release: June 21st, 2016
The second book in the Falconer trilogy is packed with surprises and suspense.
Aileana Kameron, the Falconer, disappeared through the portal that she was trying to close forever. Now she wakes up in the fae world, trapped and tortured by the evil Lonnrach. With the help of an unexpected ally, Aileana re-enters the human world, only to find everything irrevocably changed. Edinburgh has been destroyed, and the few human survivors are living in an uneasy truce with the fae, while both worlds are in danger of disappearing altogether. Aileana holds the key to saving both worlds, but in order to do so she must awaken her latent Falconer powers. And the price of doing that might be her life.
Rich with imaginative detail, action, fae lore, and romance, The Vanishing Throne is a thrilling sequel to The Falconer.
To begin: I won this physical ARC copy from Goodreads, which is astonishing. You all know how slim the chances of winning anything from Goodreads is, right?



I adored the first book, The Falconer. The idea of a double identity--balancing a lady's life and a hunter's life--mixed with the fae, action, and weapons made it my kind of book. Until this book. The Vanishing Throne is arguably equally, if not better, than the first book. It stands out completely on its own in comparison; the themes are completely different, the circumstances so vastly surreal. Aileana is operating in a different world, thus making her mindset completely different.



This book picks up literally mere moments after the cliff-hanger ending of the first book. Devastation is washed anew with Aileana facing the consequences of failing to seal the portal, and as a result, is captured by Lonnrach. To make matters worse, her failure to prevent the influx of fae from entering the human world has resulted in the absolute destruction of Edinburgh. What left is there for Aileana to save anymore?





We get such a beautiful character arc from Aileana. It was separated into distinct parts, with Aileana coming to terms with her bloodlust, fear, and guilt. I definitely think that keeping them separate made the book all that better; we could really dive into how badly each affected Aileana, and how she overcame it. And, as in any good book, the moment she overcame one issue, another one would appear to drag her back under.

Her journey was one of self-discovery and of

consequences

, learning to live with the consequences of both her own past actions (or lack of actions) and the past actions of others. I think the author did a great job, transitioning her from the revenge-driven girl in the first book to the duty-bound and self-realizing heroine of this book. I cannot wait to see what will happen to her character in the final book!
"

I'm not the creature of vengeance any more. I'm not just the girl whose gift is chaos. I died and came back. I'm the girl who endured."
Kiaran MacKay was a character I was greatly looking forward to reading about again, and I was not disappointed! I was beyond thrilled to see so much more of Kiaran's backstory in this book. All the questions I had, or didn't know I had, were brought to light, catching me off guard. He was so much more open and vulnerable in this book, which really let me get to know him, and understand him. One thing that I particularly enjoyed about his character was how he shifted towards expressing his feelings of Aileana through his interactions with others. He's still the same dangerous fae from the first book, except that he's more than happy to threaten anyone who tries to harm Aileana, w
hich I found absolutely adorable. He himself knew she
didn't need protecting, yet still made the effort to defend her reputation. I
just loved how complex his character became, and as a result, how much deeper his relationships with various characters became as well. And even better, we get more of his dry me-verses-humans humour, which I love so much!
"

And you've already seen Kiaran, who is--"
"

Leaving," Kiaran interrupts briskly. "My threshold for human tolerance is now exceeded. Send the pixie for me in the event I get to stab something."
I greatly enjoyed Aithinne, the sole new character among the main cast. She mirrored Aileana wonderfully, acting as a foil for both similarities and differences. Aithinne's bubbly, blunt, and slightly overly simplistic nature provided great light-heartedness to Aileana's seriousness and graveness at times. However, on the inside, they were exactly the same, both bearing invisible scars of having been tortured by Lonnrach. Aithinne is the female friend Aileana was missing in the first book, the one who has Aileana's back and keeps her from falling too far into herself. She represented survival, endurance, and everything that Aileana needed to persist and triumph. I can see why Kiaran loves his sister so much!
She glances at her brother. "And I suppose your face is just stuck that way?"




Kiaran pushes to his feet. "What you see is the incessant, grave look of someone in possession of a sibling."
The setting of the world was so vastly different than the first book. We took a journey into the fae world, only to emerge into a completely different human world than the one Aileana last left it right after. It was fascinating to see the vivid imagination used to create the fae world, the escape, and the remains of the human world.



We definitely got a lot more romance, much to my satisfaction! Aileana and Kiaran's relationship was significantly more sturdy and stable. It took them a bit to find the ropes again after everything Aileana goes through, but once they did, there was no stopping them. I was scared we'd get one of those "I can't handle this relationship right now because I've discovered your backstory" scenarios, but was thankful it didn't happen. Rather, Aileana accepted Kiaran, much like how she accepted herself, on the basis that people are not to be judge by their past actions, and that they can change for the better. They are equals through and through, and fight together effortlessly. What's not to love about their relationship?

Let's talk about that ending. Because that ending. I honestly don't know what was more painful: the last book's ending, or this book's ending. Both are devastating. They're devastating in different ways, which makes it so difficult to choose which one hurts the most. Whereas the ending of the last book was devastating because of the inevitable repercussions that would follow due to Aileana's failure, this book ends with a completely plot twist with two characters--and for one specific character, that sudden change is absolutely heartwrenching. Heartwrenching. On numerous aspects! How on earth is that possible?



This book overall was excellent. The plot was extremely fast paced, the themes intriguing and characters growing more and more complex. I absolutely loved this book, and cannot wait for the next one!