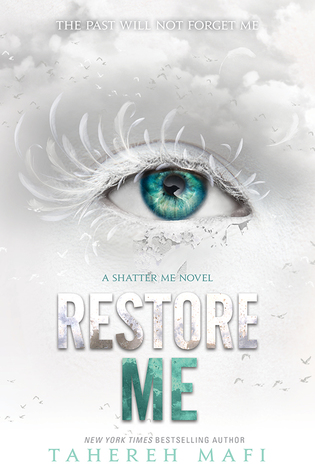 Book: Restore Me




Author: Tahereh Mafi




Series: Shatter Me #4
Juliette Ferrars thought she'd won. She took over Sector 45, was named the new Supreme Commander, and now has Warner by her side. But she's still the girl with the ability to kill with a single touch—and now she's got the whole world in the palm of her hand. When tragedy hits, who will she become? Will she be able to control the power she wields and use it for good?
The original series destroyed me in so many ways (WARNER!!!). I was left both satisfied yet unsatisfied at the ending of the last book, so learning there was more to the story had me really excited!
This book delves into a main theme not touched upon at all in the original three: everyone's pasts. Juliette's, Warners, and, most exciting, Kenji's. Even better, we get to see some of the consequence of these oppressed pasts, and figure out why each one of them never talk about it, the horrors that haunt them, and glimpse further into their minds. It was so satisfying to finally learn more about Warner's past, and even more fun to see how much his past will be affecting the rest of the books. Juliette's past was a surprise--and we definitely get a cliff hanger ending on that one. As for Kenji's, well, I really really want to know more about him in general. But then again, who doesn't? It's Kenji, and he's arguably the best character in the entire book!





The writing, as expected of Mafi, remained elegant and beautiful. I just can't get enough of her poetic writing. For example, this quote really got me:
"Especially in these quiet, vulnerable moments. These brackets of time stapled between dreams and reality are my favourite.
"
The sole thing that got me was the fact that there were SO many politics at play. Having Warner's past tie into the politics game definitely helped, but I was hoping for a few more shows of Juliette's abilities. Though I will say, though the appearance of her powers are few and far between in the book, they are downright epic. I'm really looking forward to reading the next book and to seeing some more kick-butt action with the gang! After all, I have so. Many. Questions!!!