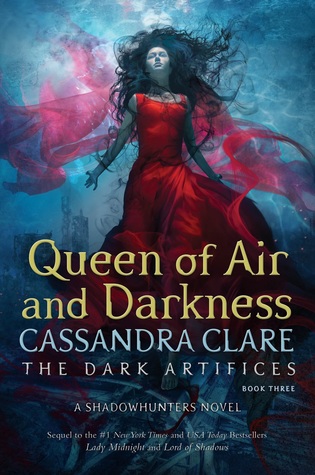 Book: Queen of Air and Darkness




Author: Cassandra Clare




Series: The Dark Artifices #3 (final)
Dark secrets and forbidden love threaten the very survival of the Shadowhunters in Cassandra Clare's Queen of Air and Darkness, the final novel in the #1 New York Times and USA TODAY bestselling The Dark Artifices trilogy. Queen of Air and Darkness is a Shadowhunters novel.
What if damnation is the price of true love?
Innocent blood has been spilled on the steps of the Council Hall, the sacred stronghold of the Shadowhunters. In the wake of the tragic death of Livia Blackthorn, the Clave teeters on the brink of civil war. One fragment of the Blackthorn family flees to Los Angeles, seeking to discover the source of the disease that is destroying the race of warlocks. Meanwhile, Julian and Emma take desperate measures to put their forbidden love aside and undertake a perilous mission to Faerie to retrieve the Black Volume of the Dead. What they find in the Courts is a secret that may tear the Shadow World asunder and open a dark path into a future they could never have imagined. Caught in a race against time, Emma and Julian must save the world of Shadowhunters before the deadly power of the
parabatai
curse destroys them and everyone they love.
Holy snap, this was a long book! Not that I'm really complaining or anything, but just saying.





This book picks up literally right where the last book ended, which is to say is complete and utter chaos. This book dives headfirst into each and every unsolved mystery, from the parabatai curse to what's going on with Diego and Jamie to the Unseelie and Seelie Courts' plans and to the mysterious person Dru had glimpsed a while back. Almost no stone is left unturned...except for the ending. Which paves way to the very final series that wraps the entire Shadowhunter world up (I think/hope(?) I mean, there's another series in between before the sequel series happens, so...yeah).



However. One aspect I was not expecting was the whole world-jumping/parallel universe thing. Edom in City of Heavenly Fire was already quite trippy, but there is now another to deal with. Which is probably going to play a really large part in the final series. But basically my reaction to Thule and everything was: really? Sebastian again? I thought we buried him already. Twice, I might add. But sure.



However, I did enjoy seeing both Clary and Tessa continue to play crucial parts to the story; it's nice to know that they're not just random inconsequential side character, after everything we know they've been through. But if the ending is any indication, we clearly are not done with Clary yet. Which I guess is nice, since it was her story that started us all down this path, though I'm slightly hesitant with it. I really don't want to see her die, and with another series on the way, there's still plenty of time for something horrible to happen to her. Or to her friends, which I also happen to care about. See the dilemma here?





Anyway, I still did enjoy the book. There are a few loose ends that weren't tied up (Ty, Kit, the Cohort/Clave), but I guess we'll have to wait another 3 years before we'll start getting any semblance of the answers.





Next: backtracking to the past, to Cordelia Carstairs along with James and Lucie Herondale's story!