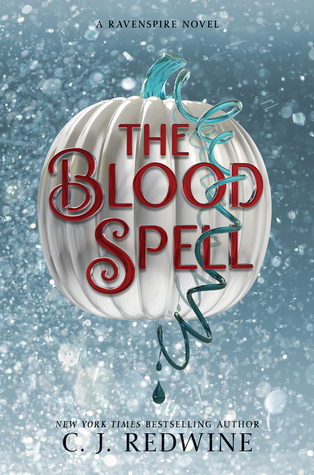 Book: The Blood Spell




Author: C.J. Redwine




Series: Ravenspire #4
Blue de la Cour has her life planned: hide the magic in her blood and continue trying to turn metal into gold so she can help her city's homeless. But when her father is murdered and a cruel but powerful woman claims custody of Blue and her property, one wrong move could expose her—and doom her once and for all. The only one who can help? The boy she's loathed since childhood: Prince Kellan.
Kellan Renard, crown prince of Balavata, is walking a thin line between political success and devastating violence. Newly returned from boarding school, he must find a bride among the kingdom's head families and announce his betrothal—but escalating tension among the families makes the search nearly impossible. He's surprised to discover that the one person who makes him feel like he can breathe is Blue, the girl who once ruined all his best adventures.
When mysterious forces lead to disappearances throughout Balavata, Blue and Kellan must work together to find the truth. What they discover will lead them to the darkest reaches of the kingdom, and to the most painful moments of their pasts. When romance is forbidden and evil is rising, can Blue save those she loves, even if it costs her everything?
Another fabulous story by Redwine! We're talking loveable characters, a sympathetic villain, magic, and a brilliant twist on a story we all know.

I think this might be my favourite book in the series yet!





This book was technically very loosely based/inspired by a Cinderella retelling. That is, if the original story of Cinderella included alchemy, blood magic, wraiths, political murders, and justice for the homeless. Which made this story way better than the boring Cinderella story.





There's no sappy insta-love between the prince and a girl he only met once, there's no unexplained fairy godmother (no fairy godmother at all), and there's no going across the entire kingdom to find and marry a mysterious girl who fits a slipper. None! More like there's an alchemist of a girl who is bitter frenemies with the prince with a grandmother who loves her. A girl who makes the most of a bad situation, and cleverly devises a plan to save the kingdom from a great evil that involves freeing herself from any people who would do her ill, crashing a ball to warn people, and enchanting slippers to become tracking devices.





We even get to see a few familiar faces! The reoccurring bounty hunter duo Hansel and Gretel, along with Ari and Thad. Plus a brief mention of poor Sebastian, who found himself stuck in bed due to seasickness.





I particularly enjoyed some of the social aspects to this book: Blue working to help the homeless children, along with a headstrong princess who uses sign language to communicate.





All in all, a brilliant book with loose Cinderella aspects that in no way drive the plot. It was filled with magic and fun, duty and heartbreak, and a wonderful bolt of stubbornness and bravery.