Hi everyone!



So, here's an interesting tidbit of information: despite my lack of presence these past months, my blog was featured as part of the Top 100 Young Adult Book Blogs and Websites to Follow in 2019 by Feedspot. My blog was listed as #51.
Your reaction is the same as mine. WHAT???





I have no idea how this happened,

but regardless, I am absolutely thrilled and honoured to have made it on the list. And ranked 51, too! Huh, this definitely helps boost my determination to do this blog right this year.



So my thanks go out to all of you. I'm not sure my humble blog's name was circulated to Feedspot, but it fills me with happiness to know that there are others who enjoy my blog enough to recommend it to others. Thank you. Thank you. Thank you from the bottom of my bookish heart for sticking through with me <3



Also, I get to add this shiny new badge to my blog, hooray!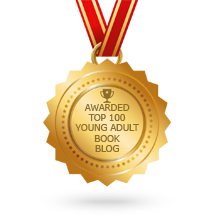 That's it from me now. I'll be back soonish with a quick review of the book I'm reading soon!





Happy reading!