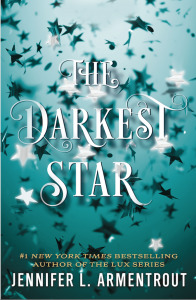 Book: The Darkest Star




Author: Jennifer L. Armentrout




Series: Origins #1
When seventeen-year-old Evie Dasher is caught up in a raid at a notorious club known as one of the few places where humans and the surviving Luxen can mingle freely, she meets Luc, an unnaturally beautiful guy she initially assumes is a Luxen...but he is in fact something much more powerful. Her growing attraction for Luc will lead her deeper and deeper into a world she'd only heard about, a world where everything she thought she knew will be turned on its head...
#1
New York Times, USA Today,
and internationally bestselling author Jennifer L. Armentrout returns to the universe of the Lux in this brand new series, featuring beloved characters both new and old.
Goodreads Link
This is the sequel series to the much beloved Lux Series, which features Luc as a main character. Gone is playfully cunning boy; instead, Luc's grown up into a rather aloof young adult, evident by his darker humour.



I definitely think you need to read the original

Lux

series in order to fully understand and appreciate this book, especially Luc's character. He didn't really have much of a dramatic character arc, but it wouldn't really make much sense for him to have one given his previous history. It was just so very

Luc

. He doesn't do the whole vulnerable or pushing people away thing, since he's been kicking butt and scheming things since he was ten or eleven. Luc doesn't ever lose. He's just awesome (and crazy evasive) and gets the impossible done as always. So yes, I was very satisfied with his character in this book!




I don't have too much to say about Evie; her character rolled out to be vaguely what I anticipated it to be, which made for a pleasant read. I really liked her mom, though. A kickbutt mom who (spoiler) DOESN'T die (yet...I hope she doesn't).
I also totally love the cameos of Daemon and Archer, and the brief mentions of Katy and Dee. Though not enough was said about them, and I'm curious to know the details about what happened during a certain event with the original gang. Luc mentioned it briefly, but I'm hoping more will be revealed (maybe everyone will show up!) in the next book.